Regular maintenance of your roof or hiring specialists in roof rebedding and repointing in Melbourne will extend the life of your roof and ensure you catch any issues before they become significant problems. Roof bedding and pointing are essential elements of your roof's structure that sustain damage over time. The team at Roof Restoration Northern Suburbs is expertly trained to deal with roof bedding and pointing for all types of houses in Melbourne.
What Is Roof Bedding?
The roof bedding is a type of cement mortar used to help keep your roof tiles in place. Like all of the elements of your roofing, the bedding itself is subject to gradual wear and tear due to being starkly exposed to the elements.
One of the most common signs that you need your roof bedding repaired is when your tiles are loose. If you do not re-bed your roof, it may result in the bedding becoming cracked or falling away completely, leaving your roof tiles exposed and vulnerable.
These loose tiles can also be a safety hazard, having the potential to slide off and cause harm to someone near the house at the time.
In most cases, we aim to avoid a full re-bedding process and focus only on areas that require attention. The cement in roof bedding actually becomes harder over time, and we do not want to compromise its strength unless necessary. Therefore, we often recommend the process of roof repointing in Melbourne.
What Is Roof Pointing?
Roof pointing is the second layer that sits on top of the roof bedding, creating a stronger and more durable hold for the tiles. It also seals the roof, protecting your home against water and dust damage by preventing moisture from entering and allowing the underlying bedding to remain protected and dry.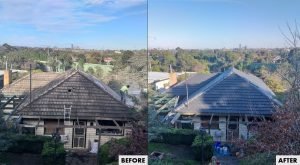 In the past, roof pointing was made from cement mortar, but flexible pointing compounds have replaced it over time, delivering a higher quality and more durable result. The benefit of flexible pointing is that it expands and contracts depending on the unpredictable weather conditions in Melbourne.
The problem that occurs with roof pointing is that it can become damaged or cracked over time. If your roof pointing has indeed cracked, its chances of producing a leak in your roof are greatly increased. In this case, it is essential that you have your roof repointed by the experts at RRNS.
Furthermore, if you have an old property where the pointing is made out of old cement mortar, you should consider having a roof repointing to apply the flexible pointing.
Roof Bedding And Pointing At RRNS
The team at RRNS are roofing specialists who can help to understand the issues occurring with your roofing in Melbourne.
We take care of every roof bedding and pointing job we work on, ensuring a durable and solid result that will last you for many years to come. We provide up to a 7-year warranty on material and workmanship.
Our specialists can not only apply new bedding and pointing but also safely and carefully undertake a complete rebedding and repointing process. If you require cost-effective roof repairs in Melbourne's northern suburbs, please don't hesitate to contact our friendly team today.
You can call us now on 0434 783 593, or send us an email at info@roofrestorationnorthernsuburbs.com.au, and we'll endeavour to get back to you as soon as possible.